Thanks for visiting our staff page! I am Pastor Pete and I've been blessed to serve as Beacon's Senior Pastor for the past 28 years. Karen and I have been married for 35 years, have six grown children and four grandkids. We reside in Port Republic, with random children, our dog Odin, and have loved being part of the Beacon family. Both of us graduated from the Kings College, and I completed seminary at Alliance Theological Seminary in Nyack New York. We are both North Jersey Natives… but South Jersey is home! We love searching for unique coffee shops, walking, and visiting our children and grandchildren!
Greetings! I'm Pastor Rob. What a privilege it is to serve here at Beacon. I'm the Pastor of Leadership and Development. It's my job to oversee the staff, while keeping things organized and moving forward and to ensure adherence to and execution of our mission, as I give general ministry direction and oversight. Prior to Beacon, my family and I served for 10 years as missionaries in Haiti. I've been serving the church in different leadership capacities for the last 20 years. After graduating from Cairn University, I received my Master of Divinity from Trinity Evangelical Divinity School. My wife Becky and I have been married since 1998. She's a pharmacist, but here at the church you'll often see her singing on the worship team; she also leads our Haiti Hope for Kids Child Sponsorship program. We have 3 teenagers, Drew, Tessa and Braden. In my spare time you might find me doing what I love... hiking, hunting, running, biking, picture taking, or getting my hands dirty in my yard. #toomanyhobbies
Hi! I'm Pastor Josh. I have been pastoring here at Beacon since 2018 when I came on to lead Family Ministries. Since then I have also begun leading our Communications and Online ministries. Prior to my time at Beacon, I worked as a case manager and clinical social worker in a variety of inpatient and outpatient mental health settings and was blessed to be able to see how I could minister within those contexts. I have been married to my wife, Rebecca, since 2009 and we have been blessed with five kids. We have four boys and a girl and love watching them grow and develop. In my free time you will likely find me out and about with my family, reading, going for a run around Galloway, or on my spin bike. I would love to be able to connect with you further so feel free to shoot me an email!
Hi Everyone! My name is Dan, and I have the awesome opportunity of being the Pastor of Student Ministry here at Beacon. My job is to work alongside middle and high school students and adult leaders, and my passion is to help them follow Jesus and find their place within the grand story of redemption that God is working out in our world. My wife, Rebecca, and I are New Jersey natives, growing up in Vineland, and after a few years working in the Philadelphia area we were excited to return to South Jersey (closer to the beach no less!) She is currently working as a high school teacher.
Outside of our jobs, Rebecca and I love spending our time outside, especially when we can get to the beach to relax and see new birds. When inside, we both love playing board games too. I love music, Bible study, and storytelling, and I even have a not-so-secret Lego hobby that keeps me occupied in my spare time. If you're ever looking for a good discussion about Jesus or a friend to play a game with, feel free to get in touch!
Hello! My name is Kim and I have been the Facilities Director here since around 2008. My wife Pat and I are originally from central PA. We moved to N.J. more than 30 years ago and currently reside in Galloway. I am extremely blessed by our Creator with many gifts and abilities. Over the years, I have tried to use my gifts to serve the Lord. I am truly blessed to be a part of this great church. My role here is one of caring for the building and grounds (I do this with the help of a great team of volunteers!) and overseeing the custodial staff. I also find great pleasure in being part of the force that makes everyone else's ministry easy, fun, and rewarding. My spare time is spent in many ways from gardening, construction, metal fabrication, welding, plumbing/electrical, and auto mechanics. My biggest hobby where I can "disconnect" and spend time appreciating God's creation is fishing.
Hi. I'm Pam DeBlasio and I've been on staff here at Beacon going since 2010. Formerly, I was the Children's Ministry Director. Currently, I serve as the Business Administrator, a position I began in 2021. I also oversee the Hope Chest here at Beacon, which provides food and clothing to area residents in need. I reside in Galloway with my husband, Marc, two kids, and our German Shepherd. Before coming to Beacon I taught special education, graduating from Glassboro State College, now Rowan. I am a non-practicing attorney, with a certificate from Pepperdine in Dispute Resolution. I enjoy spending time with my family & friends, outside adventure & recreational sports, travel, photography, reading, and the beach.
Children's Ministries Director
Hello! My name is Jenn Robinson, and I have the joy of leading the kid's ministry here at Beacon in the role of Children's Ministry Director. What an honor to teach the smallest hearts the greatness of God's incredible love. I love working with volunteers and connecting people with the opportunity to love on kids through the use of their God-given gifts, creativity, and talents. Discipleship and a love for the Word are passions of mine. I graduated from Thomas Jefferson University with a degree in occupational therapy and have worked in the field of child development and special education since 2005. My husband, Nate, and I have been married since 2005 and have been blessed with three precious kids: Mia, Zeke, and Elly. Nate leads worship here at Beacon and singing to my Savior is where my heart finds rest. In spare moments I love to spend time with family and friends, read historical fiction, play games, and spending time on the water.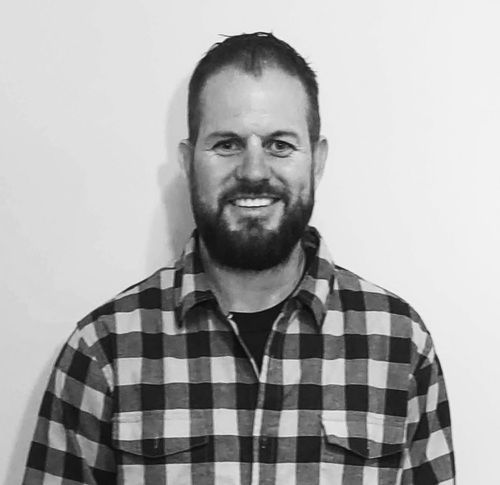 Hello Church! My name is Nate Robinson and I have been blessed with the opportunity to lead our worship ministry in the role of Worship Director. What a privilege it is to encourage the church to lift our voice in praise while at the same time laying who we are and what we have at the feet of Jesus. Our God is awesome and my heart is that we, through song and music, will always be reminded of who He is, what He has done for us, and how great are His promises. I have a degree in Marine Biology, am a licensed boat captain, and have been working in the field of marine science and hydrography for the past 13 years. My wife Jenn, who sings by my side at times, directs the Children's Ministry here at Beacon. We, along with our 3 kids, Mia, Zeke, and Elly, have been at Beacon for since 2005. In my free time you'll find me with family enjoying the outdoors in some capacity: hiking, boating, fishing or hunting.
Hi! I'm Evelyn Syvertsen. I've been one of the receptionists at Beacon for the past few years. I love interacting with the staff and with people from the church and community when they call or come to the office. For 35 years prior to 2010 I lived in many locations while working as a staff member with Cru (formerly Campus Crusade for Christ). For most of those years my work was with international students studying in the USA. I came to Beacon in 2010 when I married Al Syvertsen, at the time a widower and the Associate Pastor here, though he is now retired. I am the proud step-mom to Al's three grown daughters and am delighted to be grandmother to their kids. Al and I still love being involved in ministry and focus our attention on the seniors in our congregation.